Without mentioning a name, Wizkid's first baby mama might have dragged the singer into a mess that people on social media have pulled a seat to watch how it turns out.
Mother of Boluwatife, Wizkid's first son, took to Twitter to lament about having to play the role of a mother and a father to her son. Her tweet suggests that Wizkid has failed to play his role as a father and it has caused her to work extra hard to play both hers and his role in the life of their son.
Her outburst contradicts what is being portrayed on social media. From his posts and comments during interviews, Wizkid looks like he is a caring father to his son. If you recall, he got a tattoo bearing the name, 'Boluwatife' and there have been several pictures and videos of him spending quality time with Bolu but the recent post by Bolu's mother suggest Wizkid has been playing to the camera.
See picture below.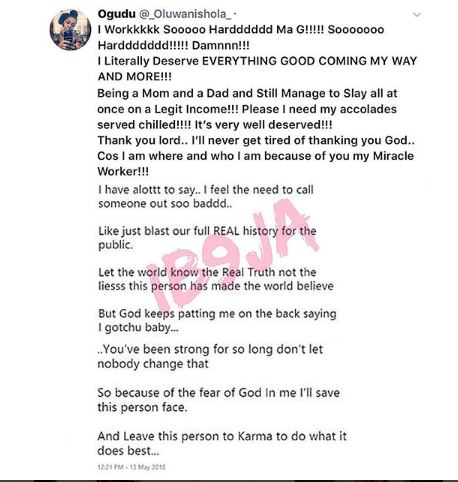 The post 'I Have A lot To Say' – Wizkid Babymama Calls Him Out? appeared first on TooXclusive.