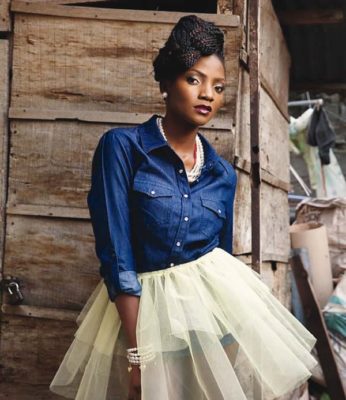 Simi has reacted in a twitter post, to the series of #SubsFriday tweets, about her perceived poor dressing habit. The singer has been severally critisized in the past, for her fashion choices and the criticism continued in the form of satires that were tied into the "SubsFriday" twitter trend.
In her twitter post, she referred to the satirical act as cyber bullying and she expressed her wish that the habit should not continue in 2018 i.e. it should be stopped in 2017.
See posts below
Your WCW is an amazing singer & performer, but she can't dress to save her own life. #SubsFriday

— FAVOUR ONYEOZIRI (@Rouvafe) 29 December 2017
Your WCW is a top notch vocalist but cannot dress to save her life #SubsFriday

— Bolatito?? (@thebolatito_) 30 December 2017
Cyber bullies also need to expire this year. Trending is nonsense if you're trending for being a shitty person. Try not to say things about people on social media that you wouldn't like to be said about you. You're a coward if you're an idiot bully hiding behind a keyboard.

— Simi (@SympLySimi) 29 December 2017
The post "You're A Coward If You're Hiding Behind A Keyboard" – Simi Responds To Internet Trolls appeared first on tooXclusive.